To view current and upcoming programs click HERE
Clubs / Centres can access a Program Request form HERE
Indicative dates below.
What is Hits & Giggles?
The Hits & Giggles Learn to Play Program was initially developed by Squash & Racquetball Victoria in 2012. As of 2017 Hits & Giggles became a nationally delivered program with Squash Australia adopting the concept for use by all states.
The program exists to provide an introduction for women and girls to the sports of Squash and/or Racquetball in a supportive and judgement-free environment. Each week consists of a one hour coaching session over the course of six weeks providing an opportunity for participants to learn a new sport and meet like-minded women in the process.
An accredited coach will be on-site, providing participants with tailored programs to suit skill level, whilst helping to build confidence and self-esteem of participants.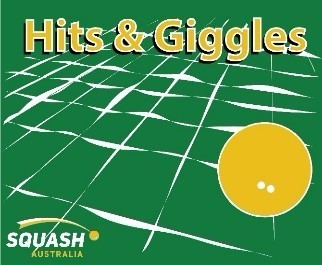 Why?
Hits & Giggles aims to provide an entry point for females interested in playing by providing a means to learn the rules and how to play. Hits & Giggles also aims to link women with others who play at a similar standard and with who participants may be able to continue playing with after the program completion.
Where?
All Squash & Racquetball Victoria affiliated clubs and venues are entitled to offer a Hits & Giggles Program, provided they follow the outlines given by Squash & Racquetball Victoria and have an accredited coach on site to conduct the program.
As an extension of the Hits & Giggles program, there may be opportunities to play some social squash within centres that run a Women's Social Squash Program. For more information, enquire with your club today.
When?
There are 4 rounds of Hits & Giggles Programs offered per year, with programs running in line with the Victorian School Terms. Participating clubs and venues can select the dates and times which are appropriate for them. For further information, refer to Indicative Dates.
How?
To register for a Hits & Giggles Program, please see the programs available via the link above titled "Current Programs". Hits & Giggles Programs are provided at a cost of only $72.00 per participant.
Different Levels of Hits & Giggles
The Hits and Giggles Program is broken into 4 different skill levels (listed below). Participating clubs and venues may select which levels they would like to offer – please pay attention to the level listed when registering for a program.
Beginner
Intermediate
Advanced
Advanced PLUS
To see where you might fall, please see the level descriptions HERE
2017 INDICATIVE DATES:
Clubs and Centres have flexibility when setting commencement dates for their respective Hits & Giggles programs, provided the 6 week program runs through the school terms (below) and the commencement date falls within the date brackets also listed below. Registrations will open when Centres or Clubs have confirmed their respective program dates and times and these will be updated on the website.
| | | |
| --- | --- | --- |
| | Earliest commencement: | 30th January |
| | Latest commencement: | 17th February |
| | Earliest commencement: | 18th April |
| | Latest commencement: | 18th May |
| | Earliest commencement: | 17th July |
| | Latest commencement: | 10th August |
| | Earliest commencement: | 9th October |
| | Latest commencement: | 5th November |