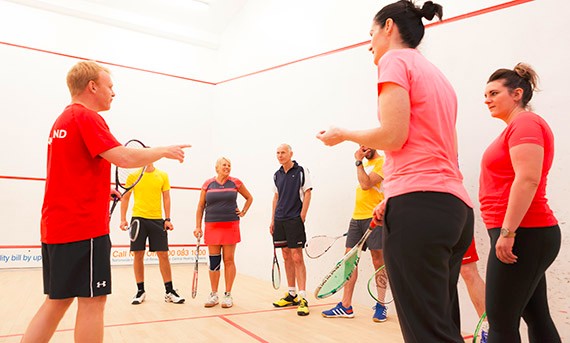 Club Development Coach Accreditation
This coach is competent to plan, conduct and evaluate a range of training programs suitable for the diverse range of ages and abilities found among registered Club or Centre players. A Club Development Coach must plan and supervise training to best prepare players of different ages, abilities and competition goals to achieve their potential. All Club Development Coaches should have the skills to prepare players for Club/Centre, District and State (or higher) level competitions. Club Development is the accepted standard for coaches implementing a diverse Squash Club/Centre program.
See the Education Calendar for course dates and locations.
Up-Coming Club Development Coaching Course
Sign Up Now!
Take your coaching to the next level!
Two day Club Development Coaching Course covering all
the elements of coaching to enable you to coach at your
centre or anywhere in the country.
Entry Cut-Off date: Wednesday 5th June 2019
Female participants' registration costs will be subsidised by
the Victorian Government "Change our Game" initiative. This
is a fantastic opportunity to tick that goal off your bucket list
and take your coaching to the next level!
Contact: Squash and Racquetball Victoria
Brendan Perry
When: Sunday 9th June & Sunday 14th July 2019
Time: 9am - 5pm
Where: Leopold Sportsman's Club 135 Kensington Rd Leopold
Bring:
drink bottle and wear comfortable sports gear
The Community Coaching General Principles
(CCGP)on the Sport Aus website MUST be completed
prior to attending the course and you can access
It is FREE to do and takes approximately 3 - 4 hours
to complete. You will receive a certificate at the end
you can download and hand to the course co-ordinator
on the first day of the coaching course.
Bring your WWCC on the day of the course.
You must also apply for a Working With Children Check
as this is also a requirement for accreditation.
You only need to apply as a volunteer unless you are in
the education system and you already have this qualification.
Sign Up Now!